I am opening a new lil area of my blog to answer any questions that you out there in the world have about painting a piece of furniture.  When I first started painting furniture my first piece sat in the garage for 3 months before I even started on it!  Why?  Because I didn't even know where to start!?!  I had no clue about color, whether or not to distress it, paint the top or leave it untouched…I pretty much just knew that I didn't want to ruin it.  I was literally stuck at a standstill simply because I didn't have the confidence.  I wanted someone to tell me what color, what to do first, etc…  So, if any of you out there have the perfect piece of furniture to update, but don't know where to start…I'm your huckleberry.  Just email me…I would LOVE to help you and will feature you and your lovely piece right here on my blog!  Whether you're needing some inspiration or help with color choices.  Because let's be honest, the chalk paint colors can be a bit deceiving online…and there is nothing worse than popping open a can of paint only to have it not be what you pictured in your mind.  Annie Sloan's chalk paint is wonderful because there are so many undertones to each color, but sometimes it's hard to see what undertones you are going to get when ordering online.
So, what are you doing just staring at that piece of unfinished furniture???  Stop putting it off another day and start making some things happen…get those items scratched off your "to do" list already, will ya!  You can email me at jessebodine@hotmail.com with the subject title "I need to be paint'n already!" Be sure to include a picture of the piece of furniture and feel free to include any other details about the room it's going in or the color scheme you are working with.  It'll be fun!
My friend Robyn, emailed me the other day and was wanting my advice on some furniture that she was thinking about painting.   She has such a gorgeous piece of furniture from her childhood that has been sitting in her parent's basement for like 20 years!?!  It is simply stunning!   Her and her husband, Ryan, want to tackle this dresser for her daughter's room.  Robyn and her sweet family are currently living in some temporary housing and only expect to be there for a short time period so what better way to add some color!
As soon as I saw the dresser,  I could picture it dripping in a beautiful, rich blueish teal color.  Can you see it?
I told Robyn, I was thinking a color almost like the greenish blue boxes sitting on top of the dresser.   I see her piece as being bold.  He is quite the knight…regal and strong.  Plus I knew the blue would pop against his white marble top.  As much as I love the color Duck Egg Blue, which I used for my cupboard, it is too soft for this guy.   Ohhhhh no, this guy needs a color that is stout and vibrant.  I knew ASCP in Aubusson Blue would be perfect.  Now, this blue might be an extreme choice for some of you, but Robyn had said she was all game.  So, I pulled some inspiration for her.
via Perfectly Imperfect .
I love how this next picture shows all the different colors you can create by simply adding Old White to the Aubusson Blue.  Each square is made by increasing the Old White part by one.  So, this is perfect for those of you who like a more muted color.
via Maple & Magnolia
via Grand Design Co. 
I absolutely love this color above.  I bet a mixture of Annie Sloan's Chalk Paint in Antibes Green mixed with Aubusson Blue would come pretty close.
via Design Sponge
via Alice & Jay
And this last one is via Savvy Southern Style .  I love the hints of Old Violet peeking through.
Because Robyn's piece is such a detailed piece, you can really have fun with the pulls and accents. She could do the drawer pulls in white to provide some contrast.  The little medallions in the middle of each drawer can be painted either in the blue, accented with some dark wax or done in white as well.  She could even leave those untouched so the wood shows.  I think Michael & Keeley of European Paint Finishes accomplish this look of mixing paint with wood perfectly in their dresser below
If it were me, I would test one drawer to kind of play around with it and see what looked best!
Since I live in a house surrounded by boys, I couldn't help myself from looking at some different bedding sets that I think would look great with the blue.  The Marni Collection
via Serena & Lily.
The Annabel Collection is another beautiful set from Serena & Lily.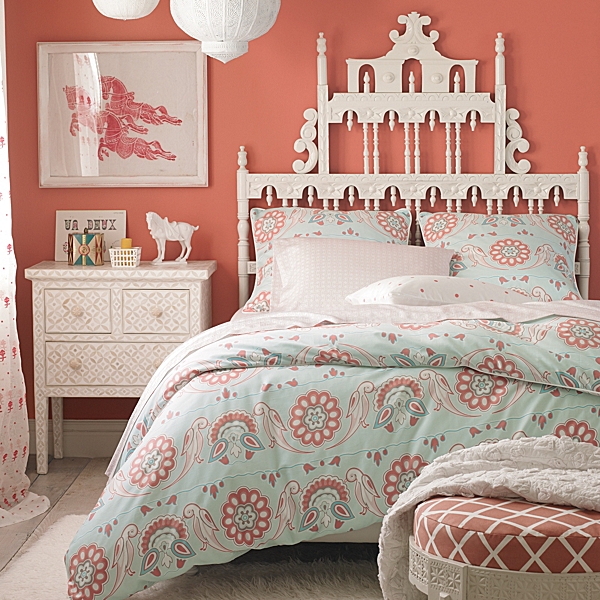 Arington Organic Hearts & Flowers via Layla & Grace.
This Rickshaw Design Goa again via Layla Grace is a little more subtle, but I love the teal piping around the pillow.
Whhhhile I'm looking at bedding and all, here is what I would for bedding do if I was doing this dresser for a guest room.
via Pottery Barn
Or this beautiful bedding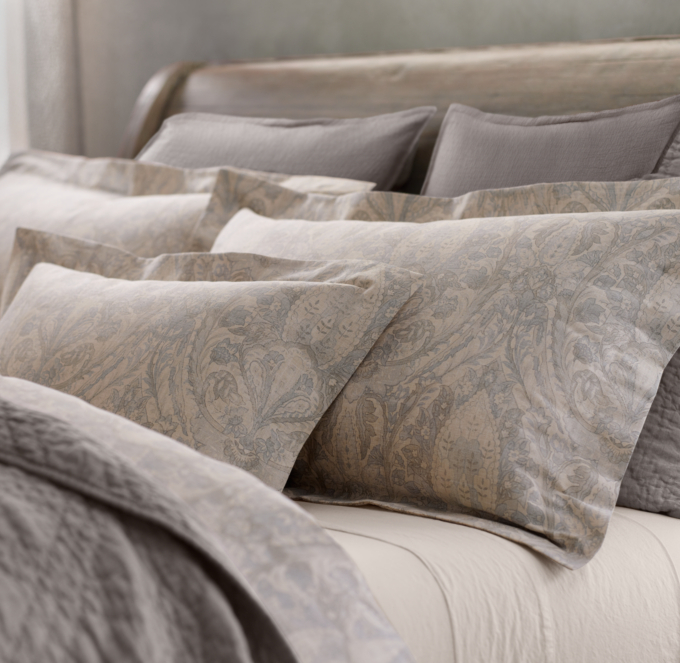 via Restoration Hardware
And because I love this bedding from Anthropolgie, I had to throw this in there…not necessarily my style, but if I could fake a style…this would be it…for suuuure.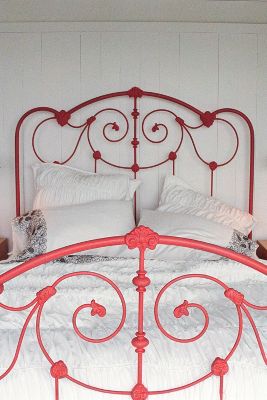 So, Robyn, I hope this helps you at least get an idea of whether you want to go with big blue or something else!  You are going to have to share your "after" shot with all of us here!  Good luck!!!