I think I am finally ready to commit…
image via
to some wallpaper. Serious subject, right? I have been contemplating it for awhile now, but always manage to chicken out right before ordering.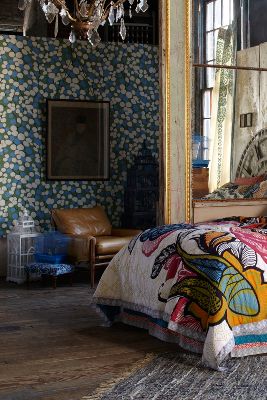 image via
image via
image via
I think the fact that I am only looking at doing an accent wall in Henry's room is working to my advantage. It's not like I'm covering a whole room. But, I am having some trouble narrowing down my choices…who wants to help?
The only thing that is permanent in his room right now is his bed frame which I have painted in orange, Annie Sloan's Barcelona Orange, to be exact.
So, we know we are working with a pop of orange.
All of these wallpapers are from Antonina Vella's Contempo line. You could find these anywhere, but if you are in Columbia, go up to Johnston Paint & Decorating…they carry everything!
Ok, so option #1: LAVINIA (images via )
with a light brown background
with a camel color background (looks more orange here)
and the one I'm leaning towards…with the bluish green background.
I think this might be my favorite because I love this picture that is featured in the book
I think this print is fun and boyish, yet it can go a little glam, too. She's versatile. Right up my alley…
Option #2: FRANCO
in the olivey green and gray
in black & white (this is a close second)
and in blue & brown
Option #3: RINA
in brownish taupes
in creams and greens
and in blue.
All of these are priced somewhere between $65-$96 per roll, but the best part is that Johnston Paint & Decorating has them marked 40% off until the end of March and since I'm just doing an accent wall, this shouldn't be too pricey. So, I have approximately 10 days to make a decision…anyone want to help a girl out? Leave me a comment with your favorite out of the selection or your top 3…if you hate them all, tell me. I'm not afraid…
And if you are in the market for some wallpaper, definitely check out Design*Sponge's top 50 wallpaper sources and get ready to spend some time online!